Mornings suck.
I have never been a morning person. When the boys were little we never left the house before 10am to do anything. I need coffee, no people, and more coffee before I am able to function.
And then they got older and started school.
Apparently schools frown upon a 10 am start so I had to become a morning person. This means I've had to change my night owl habits (no more Netflix/working/reading until 2am like I used to) so that I didn't bite someone's head off in the morning. Although my husband still knows not to talk anymore than he absolutely needs to in the mornings. Nothing registers in my brain until I'm at least two cups of coffee in so if it is important he better tell me the night before or text me after he gets to work.
I've also learnt that I need everything done the night before. This means the kid's school stuff (lunches, homework, forms, etc) all are prepped the night before so they can just grab and go. But I was still struggling with feeding them quick, healthy meals that I didn't have to think about.
I needed something that was going to fill them up but that they could make themselves so we started making Egg Bites. They are versatile, easy to make in big batches, store easily, and they last a while in the fridge making breakfast easy all week. It is also a great way to use up bits of whatever you have laying around in your fridge.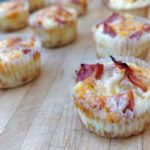 Egg Bites
Ingredients:
Eggs – 6-8 per dozen egg bites you are making
Dash of milk
Salt & Pepper
Shredded Hashbrowns (cooked)
Ham
Shredded Cheese
Recipe:
Cook hashbrowns. I usually use the Costco ones that come dried in the little milk containers but frozen also work. They need to be precooked so they don't get mushy when you put them in the eggs. If you want to skip this step you can just add more eggs to fill the cups. I started using hashbrowns to make them more filling for my big eaters but you do not have to do this.
Whisk eggs together with milk and add seasoning.
Place muffin liners in muffin tins and either spray lightly with cooking  spray or brush with a bit of olive oil.
Cover the bottom of the liners with hashbrowns and add in other toppings (ham, broccoli, pepperoni, peppers, spinich etc).
Top with egg mixture filling the muffin cups 3/4 full. DO NOT fill to the top. Eggs expand when baking and you will have a mess on your hands if they over flow.
Top with cheese. Cheddar is a good option because you don't need a lot of it to get a good strong cheese taste.
Bake at 375 for 8-12 minutes depending on your oven. You will know they are done when the egg is no longer runny.
Pull out of the oven and take them out of the pan as soon as possible to cool.
Store in an airtight container in the fridge after they cool. You can eat them cold or heat them up for a quick and easy breakfast.
Deanne Ferguson is the owner of Box Social Event Planning. When she is not planning fun, family, friendly events she is finding the yummiest food for the Edmonton Home and Garden Show Food Stage. She loves her #cocktailMonday dates with her husband and chasing around her two boys. You can find her at @DeanneFerguson on Instagram and @BoxSocialYEG on Twitter.