Last year we made a list of all the cool roadside attractions while road tripping in Alberta. This year, while you're adding the world largest Ukrainian sausage to your travel plans (it's in Mundare, Alberta), let add best place names in Alberta as the reason you need to pull over the car and take a picture. In the future we'll have to write a discover Alberta road trip itinerary!
Without further ado, some of the best place names in Alberta. Warning, some of these are funny if you have the sense of humour of a 12 year old like me.  Also, if you have a name to add to the list, let us know!
Head Smashed In Buffalo Jump
This name isn't funny as it is very specific.  Located in the foothills near Fort McCleod, Head Smashed in Buffalo Jump is a UNESCO World Heritage Site and home of a museum of Blackfoot culture. The site was used for 5,500 years by the indigenous peoples of the plains to kill buffalo by driving them off the 36-foot high cliff(source). While the name is amusing, Head Smashed In Buffalo Jump is really cool and a great way to expand knowledge of indigenous culture in Alberta.
Shaganappi
Anyone remember Austin Powers??

Milk River
Literally not milk.
In doing a little research though, Milk River is one of the few places the Mississippi drainage system and has the town motto of "Under Eight Flags" which refers to the area has been under the flags of seven governments: Hudson's Bay Company's flag (1818–1869),  France (1682–1762), the Spanish Empire (1762–1800), the French Republic (1800–1803), the United States (1803–1818), the British Empire (1869–1945), the Canadian Red Ensign (1945–1965), and the current Canadian Maple Leaf (1965–present).[5]

Entrance
Located 61km NW of Jasper, this name is pretty ironic since it's the entrance to…. we're not sure., other than of course maybe being the entrance to the Rocky Mountains? Entrance is an unincorporated community with a population of 🤷🏻‍♀️ If you're looking for some early Albertan history, there's some pretty cool information about the unincorporated community of Entrance HERE. Also, in looking up some pretty funny names, I came across Old Entrance B&B and I've stayed there before! If you need a place in a funny named little town, it was great!
Westward Ho
Yup, it's an actual place name AND it has a campground which is perfect for a road trip. Step one, take a picture of the town name. Step two. Stay for the night in Westward Ho. If you want to go to Westward Ho, you can find it just west of the intersections of Highway 22  and Highway 27 between Olds and Sundre.
Dead Man's Flats
You can't miss Dead Man's Flats when you're on your way to Canmore. Dead Man's Flats can't seem to agree on where the name originated from, but there are two stories that might give some insight into the town's name, one involves a murder, and the other one some mischievous trappers. Either way… it's kinda a bonkers name.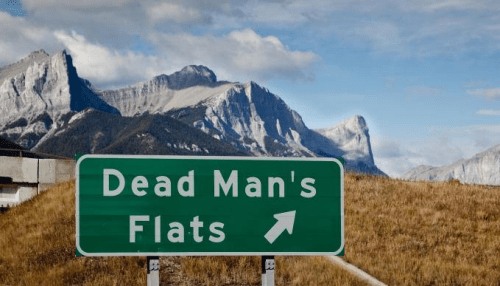 Carstairs
Carstairs name has nothing to do with cars nor stairs. There's no good story of where the name originated other than it might refer to a place with a similar name in Scotland.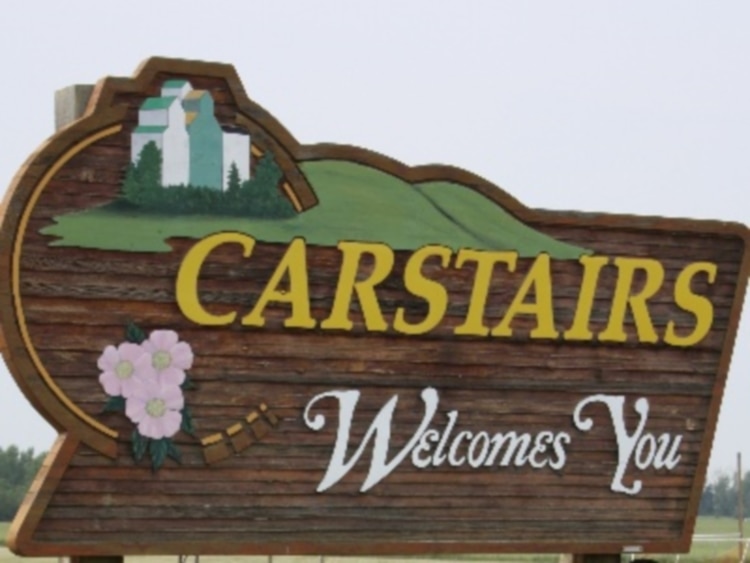 Vulcan
We would be remiss if we didn't include Vulcan to the list. Vulcan is the home to a replica of the  Star Trek Starship Enterprise ( Starship FX6-1995-A), and also name to the god of fire, but more notably the species of Captain Kirks BFF, Spock from the tv show, Star Trek. A massive shout to the Town of Vulcan, who went all out on their website!
Seven Persons
This is a great stop if there are seven of you traveling, and would be worthy of an Instagram photo. Seven Persons is located approximately 20 km southwest of Medicine Hat. The internet has several stories about how Seven Persons got its name, some site the migration of the Mormons from the US who were leaving religious persecution because of polygamy. Then there's post that delves into three stories of the town and two of those stories make much more sense.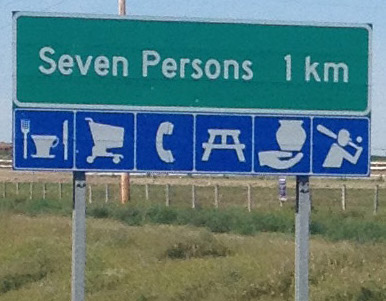 Boyle
Boil is on this list because you know what a boil is….if not, click HERE for reference (don't click through if you're squeamish). Obviously, they're spelled differently, but we want to know if Boyle was named after somebody's boil right??? RIIIIIIIIIGGHT??  Well, no because that would be hilarious. Boyle was actually named after a former Alberta Minister of Education Justice John R. Boyle.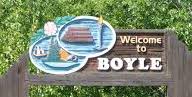 Special section: All the rivers and lakes
Albertans got particularly creative with some of our river and lake names
Keg River – is there beer? We need to know.
Cold Lake – guessing it's not warm
Long Lake – it's actually long and not wide
Flat Lake
Bleak Lake   – does not sound inviting 😟
Slave Lake – 🤨
Smoky River
Little Red Deer River