It's Tanya here of Rockies Family Adventures, and I'm continuing with my plan to review and write about ski resorts across Alberta and BC, and to share another one of my family's favourites with you.
Hopefully you had a chance to read my first story: 5 Reasons for Families to Love the Nakiska Ski Area in Kananaskis. In my previous story, I recommended finding a home hill, and "skiing close." Well, in today's story, we're moving on to road trips, and "skiing BIG."
The Lake Louise Ski Resort has been chosen as "Canada's Best Ski Resort" for the fourth time in the World Ski Awards. It also ranks in the top three for "World's Best Ski Resorts."
If you haven't skied here as a family yet, read below for five reasons my family fell in love with Lake Louise last year!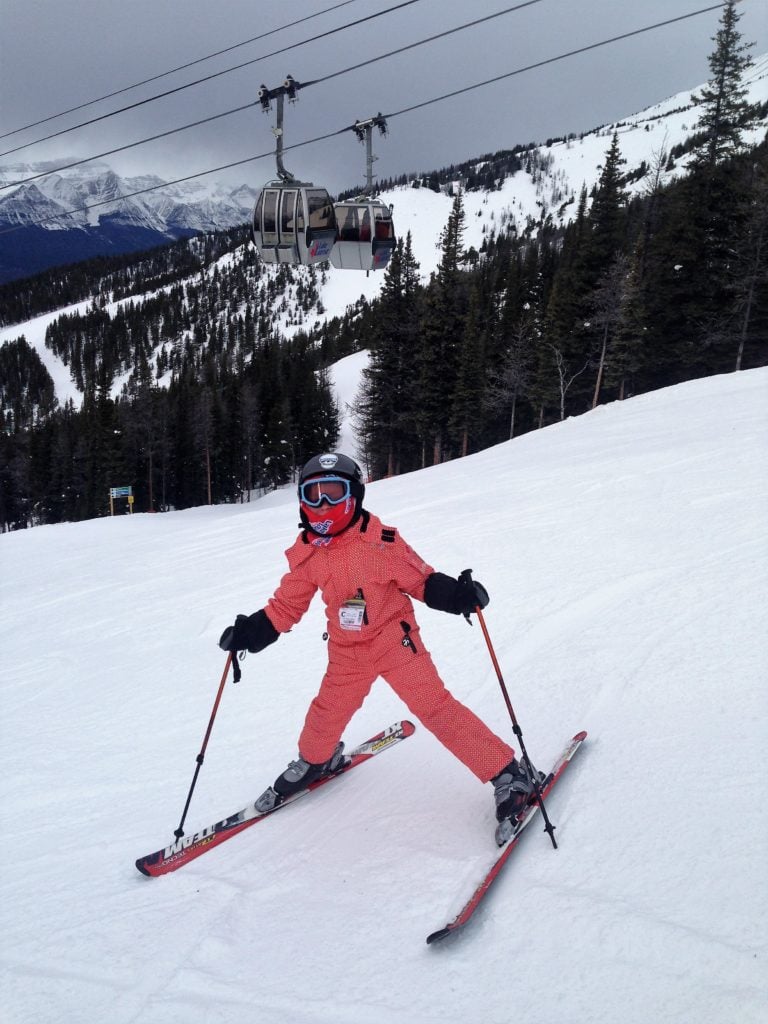 One: Lake Louise is surprisingly great for beginner skiers
I was pleasantly surprised by how many beautiful, groomed novice runs Lake Louise has. Complete beginners can start in the Sunny Side Learning Area, serviced by three progressive magic carpet runs. This is also the location of the Sunny Side Tube Park when the kids get tired of skiing (discounts available with a lift ticket.)
From Sunny Side, beginners can progress to Wiwaxy (#9,) or Pine Cone Way (#10,) from the Glacier Express chairlift. These gentle green runs offer the perfect intermediate step between skiing in the learning area, and moving on to the Grizzly Express Gondola.
Other beginner runs that we loved at Lake Louise:
Eagle Meadows (#55) or Deer Run (#56) from the top of the Grizzly Express Gondola, linking up with Wiwaxy or Pine Cone Way lower down.
Pika (#65) from the top of the Grizzly Express down to Temple Lodge on the back side. This was my son's favourite run on the entire hill because of the bumps and fun features along the sides of the run.
With a green run off every chairlift, you can now move on to any other lift (summit platter aside) knowing that there will be something easy for the kids, and that you won't accidentally end up in an "experts only zone.
Two: The whole family can ski together
At most ski hills, the beginner terrain tends to be accessed from one or two chairlifts (always at the bottom of the mountain,) with the intermediate and advanced terrain accessible from the upper chairlifts (where there is often nothing for a novice skier).
Lake Louise is a rare exception where there are green runs accessible from every chairlift on the mountain. You'll also find at least one black run off every chairlift. This works very well for my family because we can all ride up together, divide up by terrain we can ski, and then meet at the bottom again after our individual runs. Often, I'll choose to ski the green or blue run with my son while my husband seeks out a more advanced run, or my boys will leave me behind on the groomed terrain while they seek out something harder. Either way, we always meet up at the lift line to ride up together again (and have stories to share during our ride.)
Three: Plenty of options for rest, food, and mountain breaks
I really don't like crowded day lodges, so it's always a relief for me when I look at a ski map, and see that there are multiple options for eating, resting, and taking a break on the mountain.
At Louise, you have the Whiskey Jack Lodge and the Lodge of the Ten Peaks at the main base area, both with cafeterias or areas from which to eat your own packed lunch. Alternately, you can soak up some afternoon sun on the deck of the Kokanee Kabin with a cold beer and a burger. (And in spring, there's often live entertainment here on weekends).
Higher up the mountain, you can stop in at the Whitehorn Bistro, half way down from the Glacier Express Gondola, or you can use Temple Lodge on the backside of the mountain as your day lodge. (If doing so, just bring a day pack up with you and leave it in the lodge for lunch time. Bring it back down with you though after lunch because this lodge closes earlier than the ones on the front side).
Four: Ease of arrival and parking 
This will always be a big one for me. I don't want parking to be a hassle, and I don't want to have to show up an hour early just to get in to the parking lot! Fortunately, at Lake Louise, the parking lot is very big, and it's not too hard to get a spot if you show up 20-30 minutes before lifts open.
Our parking/drop off strategy for Louise was to first pull into the loading zone in front of the Whiskey Jack Lodge. Here we unloaded our skis, our day packs, one parent (myself,) and my son. My husband then drove off to find parking. Meanwhile, my son and I carried our skis around to the front of the building, and moved our day packs inside the lodge. Inside we discovered an amazing system where you can leave your bags on a series of shelves (assuming you don't leave valuables in them) without having to get a locker. And because of the shelves, nobody was stashing bags and shoes under tables, on the floor, or in every corner of the room!
I love organization, and I was in Heaven at Lake Louise.
Five: Spend a weekend and enjoy a variety of fun winter activities
Book a private room at the Lake Louise Hostel and Alpine Centre where you can save money by doing your own cooking in the communal kitchen. This hostel is very comfortable and has a large fireside lounge on the upper floor with a pool table and plenty of space for a family games night.
While staying in the Village, you can enjoy a wide variety of activities from cross country skiing and snowshoeing (the hostel has trails right outside the door,) to ice skating on Lake Louise, sleigh rides around the lake, or even dog sledding.
And if you tire of downhill skiing at the ski resort (or just want to add some variety to your weekend,) you can also sign up for a guided snowshoe tour or enjoy some tubing at the Sunny Side Tube Park.
Whether you visit Lake Louise for a day trip from Calgary, or you spend the weekend in the Village, it's a great family-friendly destination, and a spectacular place to hit the slopes as a family this winter.
Tanya
Tanya is an active Calgary-based mom and an outdoor family travel blogger over at Family Adventures in the Canadian Rockies.